Hardware &Links Isaac on 25 Apr 2007
Mostly, these posts run along the lines of product announcement rather than actual review, but here are some excerpts and links anyway. From my perspective, it's another convertible that's just a little heavier than I'm willing to carry around and has the unnecessary internal optical drive.
jkOnTheRun: Gateway announces new Tablet PC- E-155C
I get a lot of early announcements about upcoming products, almost always under embargo until the OEM is ready to have the product officially released. Normally I don't have a problem honoring those embargoes but this new Convertible Notebook from Gateway is so sweet that I had a hard time keeping this to myself. The new Gateway E-155C Convertible Notebook is a 12 inch widescreen packing, Core 2 Duo spinning, dual digitizing Tablet PC with an internal optical drive. Weighing in at 4.5 pounds the E-155C is light enough to be used in most mobile settings and the powerful hardware components will handle any task with ease.
GottaBeMobile.com – Gateway's New Convertible Tablet PC: The E155C
With a lot of the Tablet and UMPC world focused on the Intel Developers Conference, Gateway has jumped back into the Tablet PC game with news of the release of its newest Tablet PC, the E155C. We've been seeing hints of this for awhile here at GottaBeMobile.com, but now the news is out. The E155C is a Core 2 Duo convertible Tablet PC with an active digitizer and touchscreen capabilities. According to Gateway, "the E155C is designed to compliment Gateway's desktop-replacement M285 Convertible Notebook."
Laptops Blog » Gateway released new convertible Tablet PC E-155C (noteworthy much more for the pictures they have than for their minimal text)
Gateway introduced their new Tablet laptop E-155C. This thin and lightweight PC combines the "Tablet" (by allowing to input information using Stylus), and a laptop with a touch screen.
Gateway E-155C is a Thin & Light Convertible notebook : Specs, reviews and prices.
An amalgamation of style and functionality, the Gateway E-155C draws it juice from an Intel Core 2 Duo processor and uses the new Microsoft Windows Vista as its Operating System. One also comes across a a biometric fingerprint reader and Wacom digital pen with digital eraser.
Hardware &Links Isaac on 23 Apr 2007
The Student Tablet PC has added three new authors: Will, a mech eng student from Australia; Frank, a math student from California; and Robert, a history and archaeology student from Scotland.
Will wasted no time in posting a rundown of tablet hardware released in 2007:
Lots of new tablets have been released in the last 6 months as well as a host of new UMPCs. Every serious notebook manufacturer now has at least one Tablet PC model on the market. This means that there is a lot of choice as well as lots of confusion for the student and consumer. Here is a rundown which is not intended as a review of each but instead a refresh, just to let you know whats out there.
He goes on to summarize the Gateway E-155c, Lenovo Thinkpad X60, Fujitsu LifeBook P1610 and T4125, Toshiba Portege R400, HP TX1000, Motion LE1700, TabletKiosk Sahara i400 series, Fujitsu ST5100 series.
Hardware &Off-Topic &Wireless Isaac on 22 Apr 2007
Ubiquitous broadband may not be as out of reach as I'd once thought. Spurred by the death of my mother's ancient Qualcomm phone, I found myself at a Sprint store yesterday working on getting my parents a new family service plan to try (their current service, as well as mine, is from Verizon, but choices in mobile telecom providers is a whole separate off-topic entry). Somehow, the sales guy talked me into a Novatel U720 USB and a broadband account—attached to a family account and loaded with special discounts, it added a net of something like $30/month to the bill (it's really more like $50-$60, but there are combination discounts with the other wireless accounts and some percentage discounts for employees of certain companies, etc.). Even at $30/month, I'm not sure it's something I can justify, but I've got thirty days to try it and see if I feel like I can't live without it. At the moment, though, I've got it running in my bedroom, providing me with internet at a slightly slower rate than if I'd just turn on the WiFi in my tablet. The demo machine in the store registered about 1.8 Mbps download and about 200 kbps upload (both about 1/3 of the speed of my home DSL). I'll have to write more as I actually use it.
Hardware &Off-Topic Isaac on 21 Apr 2007
Due to an equipment malfunction just prior to my Tablet PC presentation at NoVA Code Camp, I can now show the world what's inside the average EM digitizer stylus.
Hardware &Links &Off-Topic Isaac on 17 Apr 2007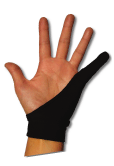 A reader sent me a note about this product, SmudgeGuard, originally designed for lefties, then extended to artists and now Tablet PC users. It looks like it covers the pinky and goes around the wrist, covering the outter edge of one's hand. The idea is to prevent your hand from smudging your work when you're writing or drawing with pencil, though the web site also talks about using it to keep from smudging your screen as you write.
I'm not that compulsively neat with my tablet so I'm not sure I'd get it just for that, but being an old overhead projector teacher, my first thought was all my coworkers who perpetually had the blue-green stain on the outter edge of their hand from not-quite-clean transparencies (while I thoroughly bleached my transparencies and never had that problem). I wonder if it would work for wet-erase pens like overhead pens.
Of course, if someone wants to send me one to do a formal review…
Hardware &Links Isaac on 11 Apr 2007
The 2006 Engadget Awards: Vote for Tablet PC of the Year
Now's your chance to cast your ballot for the 2006 Tablet PC of the Year! (For the purposes of this award, UMPCs will compete in Handhelds.) Our Engadget Awards nominees are listed below, and you've got until 11.59PM EST on Sunday, April 15th to file your vote. You can only vote once, so make it count, and may the best tech win! The nominees: Fujitsu P1610, Gateway CX210 / M285, Kohjisha SA1F00, Lenovo X60, and Toshiba Portege M400.
From my perspective, the Fujistu and Kohjisha are out because they don't use active digitizers and because their screens are too small for my taste, the Gateway is in a big hole for using something other than Wacom Penabled technology, and we're left with the X60 and M400 and I've compared those before.
Hardware &Off-Topic Isaac on 08 Apr 2007
Since I've had more than a few conversations lately about various accessory equipment and bags and cases and whatnot, I figured I'd do one of those "what I carry with my tablet" posts.  I'll split this into two lists: what I take with me to school and what I take with me on a road trip.  Note that I don't bring an AC adapter with me to school—having two extended batteries is enough to get me through the day, even if one of the two is only half-charged; I carry the standard battery as a backup and charge the two extended batteries at home at night.
Everyday, to school:
Road trip!
Hardware &Wireless Isaac on 07 Apr 2007
From TabletPCReview.com, Tablet PC Battery Life: How Wireless Affects Power Consumption
For those that saw a couple of formulas and graphs and skipped ahead to this part, I don't blame you, here are the take aways based on the data:

Simply turning on the wireless card doesn't drain much power, it might shorten battery life by 2%, so if you want to remain connected to download email it's no big deal.
If you turn on wireless and are constantly trying to acquire a connection, such as if you're constantly dropping a connection and then trying to reconnect, your battery life could be 6% – 7% shorter than usual due to the wireless card having to work extra hard.
If you have wireless card on and are transferring lots of data, such as downloading large files or constantly browsing the web, battery life could be about 6% shorter than simply no wireless on. Consider downloading large files later when you're plugged in.
If you don't need to use the web, turn wireless off, it'll save you at least a few short (but maybe precious) minutes of battery life!
In my in-class use of my tablet I have generally just left the wireless on, in case I decided I wanted to hit the web or grab something from the server, unless I was having connection issues, in which case I'd turn it off mostly to avoid the annoying continual popups telling me about the connection issues while I'm busy trying to teach.